Women's Limitless Walkshop
April 29 - May 3, 2020 // Trail Difficulty: easy to mOderate // Lake Tahoe
Walkshop Tahoe will be an experience that will both push you and pamper you. Our home base is a three-story luxury mansion in South Lake Tahoe, surrounded by 5 acres of privacy. Each day, we will set out from our home to explore the trails, the mountains, and the waters edge of Lake Tahoe. When we return in the evenings, we will relax and recover in our personal retreat, complete with an indoor pool, a sauna, a movie room, a large outdoor hot tub, and Adirondack chairs surrounding an outdoor fire pit. Evening meals will be prepared by a private chef.
Women's Limitless Walkshop
What to expect in Lake Tahoe
As women, we are constantly helping and providing guidance, ideas, directions to those around us. When do we take time to invest in ourselves? When do we take a step back and make sure the path we're on is the one we want to be on? Being in a space where you can truly be yourself (and get support and acceptance back in return) is rare but vital to our success. Join us in Lake Tahoe to learn more effective ways to take on new challenges, and to reset and refocus on your best life ahead. Learn how to take better steps toward purpose, connection, community, and self-awareness. This hike is for women only.
Trip Details: April 29 - May 3, 2020
Shared Room $2,199

Private Room $2,999
Price includes stay in a high-end luxury mansion, complete with indoor pool surrounded by rock walls, Fireplace and 50'TV, indoor sauna, game room with pool table, large outdoor hot tub just, and a ring of Adirondack chairs surround an outdoor fire pit which allow you to absorb the quiet sounds of the mountain as you are surrounded by 5 acres of privacy.
Your price also includes:
Two privately cooked dinners by a recognized local chef (2 Dinners in town will be on you at a location of your choosing)

A personalized Walkshop lightweight hammock, for use on the trail!

A Walkshop 26 oz. Aluminum Water Bottle

An afternoon on clear bottom kayaks, out on the lake

Pick an item of hiking gear from our Walkshop Store

Access to the Walkshop global community - including the online community portal and slack group
Agenda
Wednesday, April 29th: Travel to Lake Tahoe
Our private mansion retreat will be located in South Lake Tahoe. Arrive, unpack, and relax.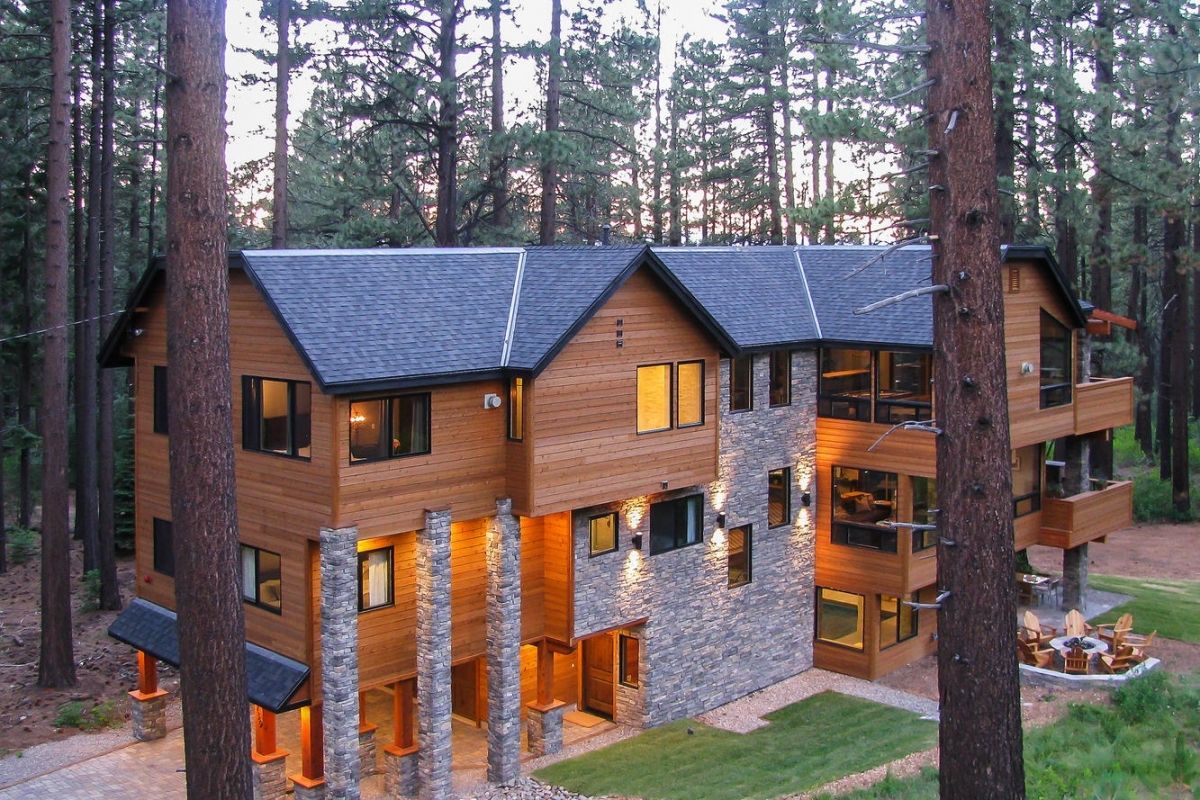 Day 1 Hike: Mountain Top
To get ourselves oriented on our first day, we will explore the mountains surrounding Lake Tahoe. The Tahoe Mountain Loop is a moderate 7.6 mile hike with breathtaking views of the mountains and lake.
Day 3 Hike: Waters Edge
For our last hike together, enjoy the view from the water's edge as we walk the 7.3 mile loop trail along Lake Tahoe and Emerald Bay. Take your time today, where you can savor the sites and nurture sore muscles. A meal from our private chef will be waiting.
Day 2 Hike: Wandering Creek
Follow along the winding curvy stream as you hike along the 6.9 mile High Meadows to Cold Creek Trailf - stopping to notice the many wildflowers that grow near the waters edge.
Glass Bottom Kayak Star Gazing
Relax and enjoy the bright night sky with the illumination of colorful LED lights below as you glide along the glassy waters on this unique clear kayak experience.
For the Lake Tahoe trip, we will discuss this book during our hike, as part of the theme on growth, success, and development.
What if success doesn't equal happiness?
"Many of us spend our lives pursuing a singular idea of success, one that was created for us by someone else. We give votes to those who shouldn't even have voices and strive to go faster and faster even as we find ourselves falling further and further behind. We chase gold stars, we check all the boxes, we Lean In - and we still feel incomplete.

This is not a story about failure, but it might as well be. When we don't define success in our own terms, finding our purpose and carving our own path becomes impossible. How do you break the cycle so that you can be better at work and life?

If you ever dreamed about discovering and crushing that personal goal that is so big and so scary that you've only dared whisper it to yourself, this book is the permission you didn't even know you needed to live into it as only you can."
Frequently Asked Questions
What's included in my ticket purchase?
A gorgeous private mansion, with pool, sauna, outdoor firepit, outdoor hot tub, game room, and 5 acres of privacy

Two privately cooked dinners by a recognized local chef (2 Dinners in town will be on you at a location of your choosing)

A personalized Walkshop lightweight hammock, for use on the trail!

An excursion out on the lake on clear bottomed kayaks

Private yoga session organized for our Walkshop members

An item of hiking gear from our Walkshop Store (comes free with your ticket)

Access to the Walkshop global community - including the online community portal and slack group
What should I pack for the trip?
Passport (if traveling from overseas)
Backpack that can get wet and survive

Journal

Good pens

Snacks

Lots of extra socks

Good hiking shoes (plus an extra pair of shoes)

Swim suit if you want to take a dip in the lake, use the pool, hut tub, or sauna

Rain gear and extra clothing. Dressing in layers allows you to adjust to changing weather and activity levels. Two rules: avoid cotton (it keeps moisture close to your skin) and always carry a hat

Spare plastic bags (keep things dry)

Sunscreen and sunglasses

Bug spray

Compass

Headlamp

Band-Aids (in case you get blisters)

Flashlight

Whistle

Knife or multi-purpose tool.
What will the weather be like?
Typically in May, average weather in South Lake Tahoe ranges from 58°F to 66°F, rarely falling below 45°F or exceeding 77°F.
How should I train / prepare for the hike?
The hikes in Lake Tahoe are easy to moderate - but still a good distance each day. Everyone should start a stretching routine before going on the trip and start increasing the amount of physical activity they experience in a typical day in anticipation for the trip. To help build an endurance, consider switching to a standing desk, purposefully start walking more on the weekends, or take your next 1:1 on foot and walk around the block as you talk with your peers!